Official Launch of You Matter veterans project – Tuesday 15 March 2022
The Veterans Commissioner, Mr Danny Kinahan, attended the official launch of the You Matter programme on Tuesday 15 March.
The Commissioner stated the following:
"One of my key aims, as Veterans Commissioner, is to ensure that every veteran living in Northern Ireland knows what mental health support exists for them, and how to access it whenever it is required. The You Matter project is absolutely essential to ensuring this happens"
Background to 'You Matter':
The You Matter project aims to prevent suicide among the veteran community by developing positive ways to cope with the negative impact of war zone trauma and its proven effects on quality of life and relationships which can make the adjustment to civilian life more difficult.
The programme also aims to make it easier for people to ask for help, by raising awareness of mental health in the wider Armed Forces community, including veteran family members over the age of 16, including providing specialised Safetalk training on suicide prevention.
Delivered in conjunction with the Armed Forces Covenant Fund Trust, the You Matter Programme has been designed to identify and reach those veterans at risk and to develop a network of support and framework of intervention and suicide prevention services.
One of the services offered through You Matter is equine-assisted therapy based at Ballygraffan outside Comber. June Burgess of Horses for People, states:
"Through our programmes, the close contact interaction with the horses truly helps veterans develop an improved outlook on life," June explained. "We offer a hands-on approach, with the horses helping veterans to learn how to moderate their moods, emotions and reactions, which in turn fosters greater coping mechanisms and their decision-making processes. Ultimately, this physical contact with the horses equips veterans with the skills to connect better with their loved ones to help them improve and maintain better relationships."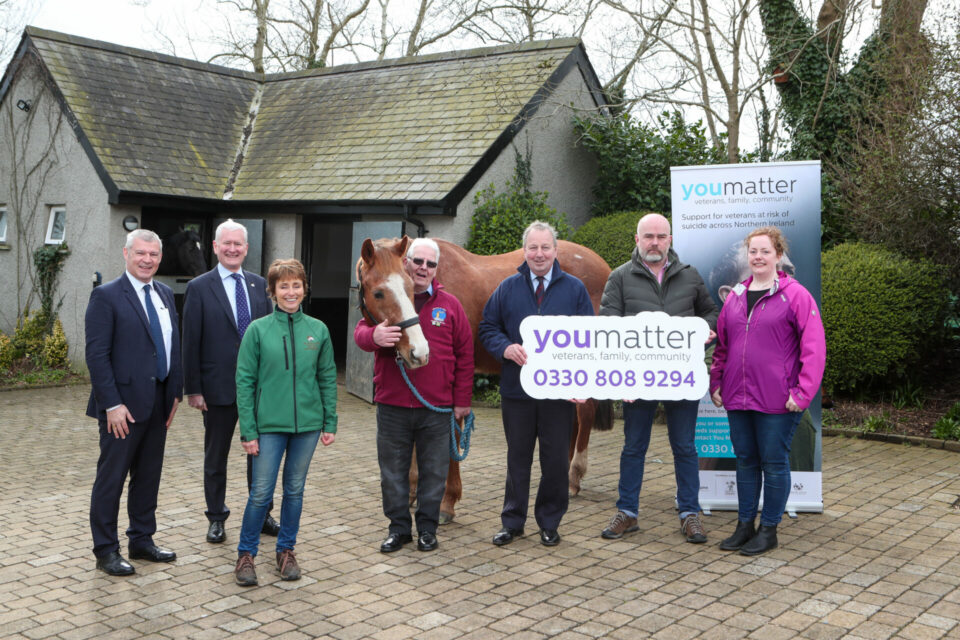 You Matter is delivered by Inspire Wellbeing in conjunction with the Armed Forces Covenant, the Northern Ireland Veterans' Support Office, Action Mental Health, Brooke House Health and Wellbeing Centre in Fermanagh.
Veterans and their families can assess You Matter by calling 03308 089 294.