We are committed to supporting UK veterans both in Northern Ireland and the Island of Ireland . Many veterans face challenging times after leaving the Armed Forces and we want to ensure that all veterans receive the support and care they deserve. Both the Northern Ireland Veteran Commissioners Office and the Northern Ireland Veteran Support Office (VSO) work collaboratively for the representation and delivery support of services to Veterans.
There are a large number of service and public charities with differing specialisms, that can help veterans through the toughest of times. Below are the links and contacts of some of those providers that can offer assistance to you.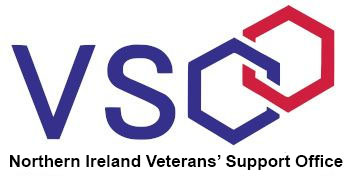 Northern Ireland Veteran Support Office
The VSO was established to develop the capacity to deliver the Armed Forces Covenant in Northern Ireland. We achieve this by developing strong working links between devolved Government Departments, Local Government Veterans' Champions and the voluntary and charitable sector. This ensures that Veterans living in Northern Ireland do not experience disadvantage as a result of their Service in the Armed Forces and have the same access to services and support as any other citizen.
To contact the VSO Tel: +44 (0) 2895 216784 E mail via website: https://nivso.org.uk/contact
Armed Forces social support groups in Northern Ireland
Issues with depression, PTSD, bereavement, domestic violence, drug or alcohol misuse and family troubles are difficulties that many in the Armed Forces community face. By finding support groups that offer experienced advice and comradeship for people coping with problems, veterans and their families can receive the help they need. Support is available in Northern Ireland from:

This charitys support covers both regulars and reserves in the Royal Navy, The Royal Marines, the British army and the Royal Air Force and their families, including anyone who has completed National Service. They are all entitles to lifelong support from DDAF, no matter how long they served. It is a national charity operated on a regional basis. all branch members are highly trained volunteers, giving their time freely.
http://www.ssafa.org.uk/northern-ireland

Veterans UK
The Ministry of Defence's Veterans UK provides free support for veterans and their families, including a helpline, Veterans Welfare Service and injury/bereavement compensation scheme payments.Veterans UK
Through its helpline it provides assistance on many issues including benefits, housing and welfare. Normal Service 8.00 am to 4.00 pm Monday to Friday. Please email outside these hours using the address below.
For Pension Advice please call freephone 0808 1914 218 (UK only) – you must be able to provide your National Insurance Number. If calling from overseas the number is +44 1253 866 043.
Email: veterans-uk@mod.gov.uk
When the helpline is closed, callers in need of immediate emotional support will be given the option to be routed to The Samaritans 24 hour helpline on 116 123.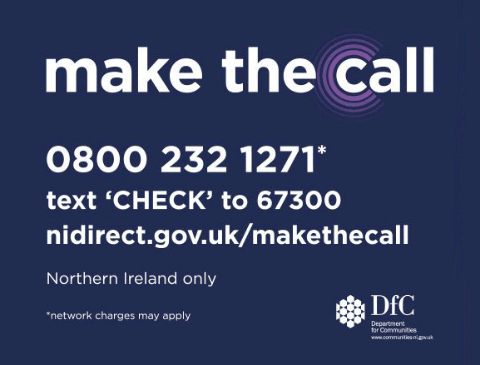 Make the Call
You can check if you're getting all the money, supports and services you're entitled to by contacting the Make the Call team.
Tel: 0800 232 1271
www.nidirect.gov.uk/makethecall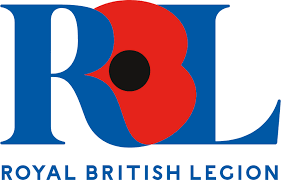 Royal British Legion
The Royal British Legion is the UK's leading charity providing financial, social and emotional support to millions who have served or are currently serving in the Armed Forces, and their dependents.
There are a number of British Legion branches either within or close to most towns and cities in NI.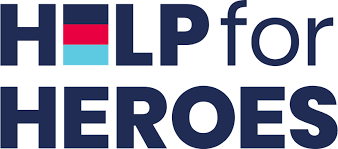 Help for Heroes
Help for Heroes was founded by Bryn and Emma Parry OBE to provide lifetime support to those wounded in the service of their country. No matter when someone served, they believe that those prepared to put their lives second, deserve a second chance at life. Serving in the Armed Forces takes strength, but it takes a different kind of strength to live with life-changing injuries. Every course and activity that Help for Heroes offers aims to empower veterans to look beyond illness and injury, regain their purpose and reach their potential. Together we can help them, and their families, find the strength they need to live the lives they deserve.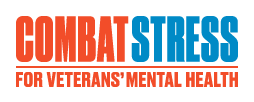 Combat Stress
Combat Stress is the UK's leading charity for veterans' mental health. Its network of community teams across the UK can help you find support through social contact and drop-ins. These groups, many run by veterans, offer comradeship and companionship for those who need it. To find groups in your area, contact Combat Stress at:
Tel: 0800 138 1619
Email: helpline@combatstress.org.uk
www.combatstress.org.uk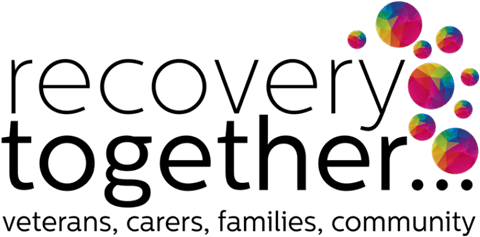 Recovery Together
his programme run in conjunction with the Armed Forces Covenant Fund Trust tackles serious stress in veterans, families and carers. It has been designed on and prioritises a 'whole family approach.'
To find out more call: 03308 089 294 or download the information booklet.