The NI Veterans Commissioner spent two days in London undertaking a number of engagements, representing and advocating on behalf of veterans' in Northern Ireland.
He had the opportunity to catch up with Leo Docherty MP, Minister of Defence People and Veterans and raised a number of issues, including the need to deliver a fully resourced, sustainable and long-term centralised local delivery body in NI, which would ensure access and delivery capability for all veterans, reduce duplication and work from the bottom up. An invitation was also extended to the Minister to be guest speaker at one of our upcoming Veteran Information Roadshows. It is important that these issues can be raised at the highest level in the UK Government and the Commissioner will continue to use these avenues to advocate for NI veterans.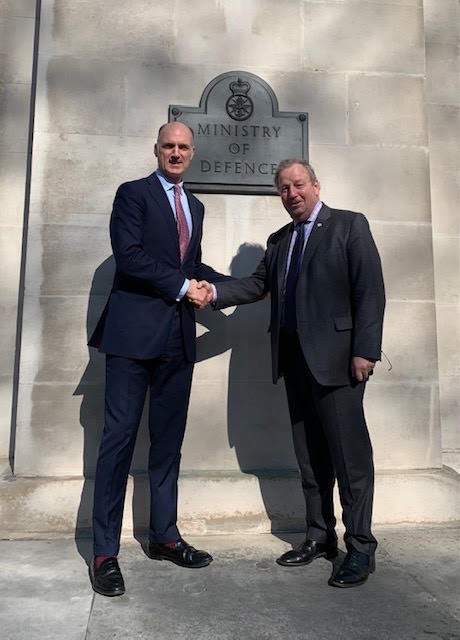 The Commissioner also caught up with Col David Richmond, Independent Veterans Advisor to the Cabinet Office and James Sunderland MP, Chair of the All Party Parliamentary Group on Veterans.
At a meeting with Jessie Owen, Director of the Office of Veterans' Affairs, the Commissioner discussed the Veterans Strategy and Action Plan that was published in January and how this will impact NI veterans. The implementation of the Armed Forces Covenant was also covered, following the Armed Forces Act coming into law in December – the Commissioner was advised that guidance for public bodies, which will set out how this new legislation should work in practice, was still being developed and it is hoped will be completed by September.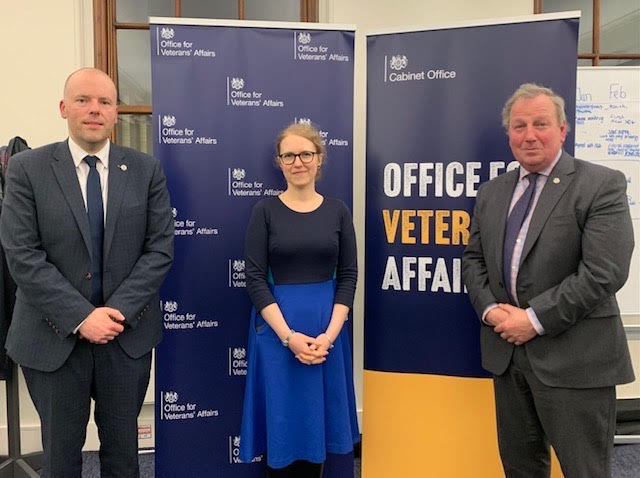 The Commissioner met Laura Pett, Head of Public Affairs, at the Royal British Legion and outlined the issues that are raised with him at engagements with RBL members in NI. The Commissioner said that he has been struck by the dedication of so many RBL members, all volunteers, who ensure that veterans are looked after and provided a safe place to socialise and meet with other veterans and family members. The Commissioner also emphasised that the RBL members locally are best placed to try and reach out to veterans that we do not communicate with or know about, to ensure no one is left feeling isolated or unsure where to go should they need support. The meeting also covered the provision of respite and health support, both physical and mental, as well as long term, sustainable funding streams.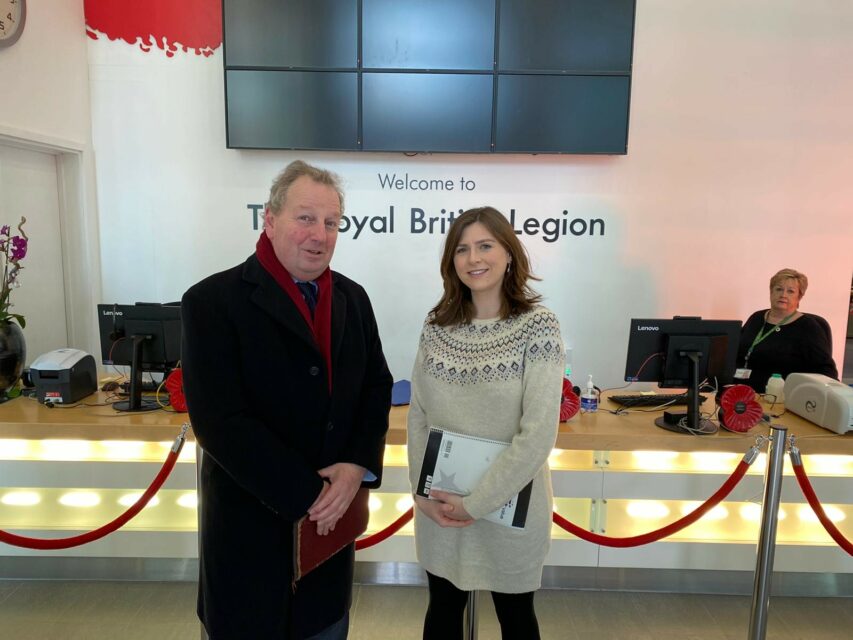 Finally, the Commissioner was able to attend the quarterly meeting of the Contact Group. The Contact Group, chaired by Dr Charles Winstanley, is a collaboration of statutory and non-statutory (charity, academic and professional) organisations working to improve mental health support to the UK armed forces community, including serving personnel, veterans and their families. The Commissioner was able to provide an overview of the key issues affecting veterans in NI, and highlighted the ongoing work of the Veterans Mental Health committee, involving a number of key mental health providers for veterans in NI. Discussion also focused on the roll out of the Veterans' Places, Pathways and People programme that will ensure £800,000 will be coming into NI over the next two years to support mental health provision amongst veterans.
These engagements are so important to keep Northern Ireland veterans in line with England, Scotland and Wales, so that no veteran feels left behind. Every devolved nation is different in its own right and to get the best outcomes, working collaboratively ensures that although different paths may be needed, the destination is the same.  'To ensure our veterans are looked after as best as we can'.