Working with veterans is a rewarding and unique experience, whereby once trust is gained you get to know people who have truly lived extraordinary lives.
While most veterans go on to live very 'normal' lives after their service, there are a few who struggle to adapt to civilian life or face challenges along the way in which help is needed. This job opportunity will allow the right applicant the chance to really make a difference to peoples lives, learn a lot and gain invaluable experience along the way.
Should you feel this is an opportunity suitable for you, please apply, as you could be making big differences and positive changes to veterans lives.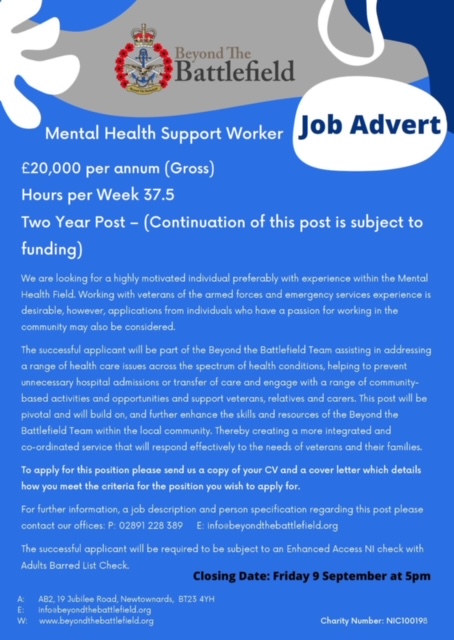 Job/Role Description:
Mental Health Support Worker
Please view/ download the attached documents for details about the job & how to apply:
Mental Health Support Worker Job Advertisment
Mental Health Support Worker Job Description and Person Specification
To apply for this position please e-mail a copy of your CV and a cover letter which details how you meet the criteria for the position you wish to apply for.
Your CV and Cover Letter detailing how you meet the criteria should reach us no later than Friday 9 September 2022 at 5pm.
(N.B. Late applications will not be accepted).
See further details about Beyond the Battlefield.
The Deadline is Friday 9 September 2022 @ 5pm.